News
New website ! (30-04-2015)

Falisia Transport is pleased to offer its new website! Discover y our company, our services...
All news
Recently
Exceptional transport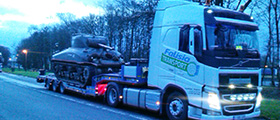 The Belgian army entrusts Falisia Transport loading the Sherman tank of Wibrin.
Welcome at Falisia Transport sprl
Falisia Transport Sprl is an international transport company located in Houffalize, Belgium.
We have several vehicles (tractor + semi-trailer machine carrier, trays rights) that run daily.
Specialist in the domain of specialized transport and heavy materials, the company transports new vehicles or opportunities, civil engineering machinery or other crane elements, concrete blocks, natural stone, iron, pallets, bigbag ,...

Falisia Transport sprl provided a neat job, on time and all at a very attractive and competitive price.
We are able to serve the following countries:

Belgium, France and possibly the Netherlands (Holland)
Contact us and we will see what we can do for you; it is with pleasure that we will return service.


Our activities and services
In addition of national and international road transport service, Transport Falisia offers shipping service - Marine charter - and the possibility of storage in our warehouse.