News
New website ! (30-04-2015)

Falisia Transport is pleased to offer its new website! Discover y our company, our services...
All news
Recently
Exceptional transport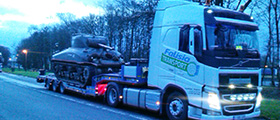 The Belgian army entrusts Falisia Transport loading the Sherman tank of Wibrin.
Road Transport - Belgium / France
A modern and specialized transportation service
Falisia Transport offers the best service possible. We can rely on trained personnel aboard a modern fleet equipped with the latest communication technologies and localization. Here are some possibilities:
Transportation of new or occasion vehicles
Transport of engineering machines
Transport of cranes elements
Transport of concrete blocks
Transport of natural stone
Transport of iron, pallets, big bag, ...
...
Specialist in specialized transport and heavy materials. We are mainly active in Belgium, France and possibly the Netherlands (Holland). For France, Falisia Transport has CATEGORY I
The Vehicles
We have several tractor-trailers door gear and trays rights
Our Fleet is regularly serviced and maintained in perfect condition in our workshops.
Falisia Transport also has a washing system to offer an impeccable service.
All our vehicles are equipped with an onboard computer with localization service.
For more information please contact us or make a request quotation.