Contact us
Falisia Transport sprl
Fontenaille 2
6661 Houffalize
Belgium
Office
Phone: +32 (0)61 28 76 00
Email: info@falisia-transport.com
Marie-Anne Goosse
Languages :

French
Mobile:
+32 491 64 94 85
Email:
secretariat@falisia-transport.com
Latifa Ighafi
Languages :

French

English
Mobile:
+32 493 50 55 48
Email:
latifa@falisia-transport.com
News
New website ! (30-04-2015)

Falisia Transport is pleased to offer its new website! Discover y our company, our services...
All news
Recently
Exceptional transport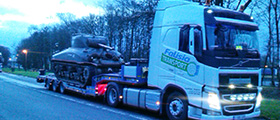 The Belgian army entrusts Falisia Transport loading the Sherman tank of Wibrin.
Contact us
Need more information? You want more information about our international services?
Please complete the form below or use our contact information below.
Contact form :